WHAT IS ANTIQUE SOUND WORKSHOP?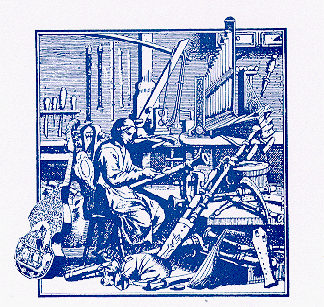 ---
From the Director's Desk: Our Mission Statement
By way of explaining what Antique Sound Workshop is, it might first be useful to state right up front what we are not. Antique Sound Workshop is not a retail music store, nor is it an Internet discount warehouse. ASW is, however, something which I feel is quite unique: a small private home workshop run by a professional musician, scholar, teacher, and craftsperson who has played and performed early music extensively, and lives and works with a wide variety of early musical instruments on a full-time basis.

We are specialists exclusively in historical woodwind, brass, string, keyboard, and percussion instruments, are instrument designers, importers, and sales agents for a number of European and American instrument makers, and provide extensive custom preparation service, as well as authorized warranty and non-warranty repair service, for every instrument that we sell. We tune plastic recorders just as carefully as wooden ones. Unlike mass-market Internet discounters who make their money on volume sales to indiscriminate customers, we sell no unserviced instruments out of the box "as is". We firmly believe that custom-serviced instruments make better players and better musicians.

I take a great deal of personal pride in my integrity, my research and workmanship, and my more than sixty years of performance experience in early music. From the very beginning of our workshop in 1973, I have placed the greatest emphasis and highest priority on individual customer service and personal attention. ASW has no high-pressure paid salespersons working on commission; I talk or correspond with each and every customer myself and gladly provide whatever time, information, and assistance is necessary to help each individual make an informed decision as to which historical instruments would be best suited to his/her/their needs, tastes, and budget. I pride myself on being first and foremost a professional musician and dedicated teacher, not a commercial salesman.

"It's hard enough for most startups to survive the first five years, much less 50 years," said Robert Morris University management professor Marcel Minutolo. "Making it 50 years is a pretty impressive feat." Be that as it may, way back in 2003 we at ASW then celebrated 30 years of dedicated service to our customers in the early music community. Only 1.75% of American businesses survive long enough to celebrate their 30th anniversary, so we must have been doing something right for all those years. However, you don't have to take our word for the excellence of our workmanship and customer service. If you would like to read unsolicited comments from other ASW customers about our custom-serviced instruments and personalized services, please have a look at Kudos from Our Customers.

If you have been suffering with poor quality, off-the-shelf instruments, limited selection and availability, or indifferent attention, I urge you to contact me personally and allow me to help you find exactly the right instrument for you. I personally guarantee that the instrument you purchase will be custom-serviced in our workshop to perform at its optimal best. Any instrument may be returned after a one-week trial if it does not meet your expectations. We hope to be of service to you soon.

David H. Green, president and director
Antique Sound Workshop, Ltd.
---
---
Who Are We?
David H. Green, founder, president, and director of Antique Sound Workshop, Ltd., is an internationally-recognized authority on the construction and design of historical musical instruments and the performance practice of early music. He possesses undergraduate and graduate degrees in performance on modern bassoon and historical woodwinds as well as in musicology, and was a professional orchestral musician and early music performer as well as a university faculty member for sixteen years before retiring in 1976 to devote his full time and energies to the workshop. He now serves as a design consultant to a number of European instrument makers and has lectured, taught, and performed extensively in the United States and abroad.

Other members of the ASW staff include:

Goffy, MIS/DP Manager and General Factotum
Amory, Customer Service Director
Carlton, Bargain Basement Manager
Bert, Sheet Music and Publications Director
Lewis, New Issues Apprentice
Skyler, Director of Promotion and WebMaster
Scooter, Shipping Department Manager and Bulk Mail Supervisor
Ivy, ASW Historian and Archivist
Julie, Art Director and Aviary Manager

Antique Sound Workshop, Ltd., is an equal opportunity employer and is committed to a diverse workforce.
---
What Do We Offer?
We maintain the largest inventory and selection of historical instruments in the United States, including over eight hundred different models of recorders and an equal number of other historical instruments, for immediate delivery to our many customers across the nation and around the world. All of the instruments in our catalogue are crafted in small quantities by European and American instrument makers in a tradition of handwork dating back hundreds of years; we sell no factory-made, mass-produced instruments of inferior quality, such as are found in commercial music stores.
---
What Do We Do?
We at Antique Sound Workshop are the interface between the instrument maker and the skilled musician. As professional musicians of many years' experience, we demand that each instrument deliver the optimum performance of which it is capable, whether it be for our own use or for our customers. We always respect the original design of the maker, however, and will not modify an instrument to be something other than that which it was intended to be. Our custom service procedures are intended to optimize an instrument's performance within the parameters of the original design, not to alter it beyond recognition.

Our experience with literally hundreds of different makes and models and numerous samples of each model has taught us precisely what to expect from each instrument and what it is capable of achieving. Instruments which cannot be improved to our own standards are returned to the maker, not passed on to less demanding customers. Recorders and other wind instruments are stabilized, revoiced, and retuned to our own exacting professional standards; we can therefore guarantee the tuning and voicing of every wind instrument that we sell to the original purchaser for the life of the instrument. These custom services are performed on each and every instrument before delivery at no additional cost to the customer. A custom fingering chart, extensive and explicit instructions for care and maintenance, and our unique lifetime comprehensive warranty are included with each instrument.

We also provide replacement parts, reeds, strings, cases, and other accessories for all of the instruments that we sell. However, we are able to offer repair service, parts, and accessories only to our own customers and only for instruments which were originally purchased from our workshop. The performance of extensive custom preparation and repair work is a time-consuming, nonprofit-making service which we gladly offer to our own customers in return for their patronage. Thanks largely to the Internet, our volume of business has grown tremendously in recent years, in spite of the fact that we do no other advertising whatsoever. In point of fact, most of our business comes from recommendations by satisfied customers. We regret that we cannot afford the time and energy to provide service and supply parts for unsatisfactory instruments obtained elsewhere. We feel that our primary obligation is to our own loyal customers, and we ask for your understanding and consideration in this regard.
---
How Did ASW Get Started?
Long before I established my workshop as a business enterprise, I had ordered a large number of historical instruments from both European and domestic makers for my own performance use and had found most of them to be quite inferior to the finest of modern instruments and largely unacceptable for professional purposes. After a number of trips to visit European instrument makers, the reasons for this state of affairs became readily apparent. I found that most early instrument makers are primarily craftsmen and not performing musicians. They are able to play the instruments they build at a very rudimentary level at best and in some cases not at all. They are therefore not able to make the subtle adjustments in voicing and tuning that require the well-honed playing skills and fine ear of a professional musician.

Equipped with a modest background in modern instrument repair techniques, an academic knowledge of musical instrument acoustics, and degrees in both musicology and performance, I set about trying to salvage my own instruments and make them play better than they did when delivered. I was soon asked to work on instruments belonging to my professional colleagues, students, and friends. Without any planning or intent on my part, I suddenly found myself in the business of importing, servicing, and selling historical musical instruments! The workshop itself, founded in 1973 as The Aeolian Workshop, changed its name to Antique Sound Workshop, Ltd., in July of 1981 upon incorporation. The rest, as they say, is history. If you would like to read a more detailed history of our workshop, go to ASW Celebrates Its 25th Anniversary - A Look at the Past and the Present.
---
Can I Subscribe to your Newsletter or Mailing List?
Our principal ongoing means of communication with our customers during the years before the Internet became as widely used as it is today was our lively and informative newsmagazine Chrestologia and its predecessor The Antique Sound Workshop Customer Newsletter. These two journals were published for the twenty-three year period from 1975 through 1998. We greatly regret that, due to the enormous increase in sales volume generated by our WWW site, we are no longer able to afford the time to write and produce our magazine, which in recent years averaged twenty-four pages per issue and was published three times a year in February, June, and October. Chrestologia was sent without charge to current customers of our workshop. It contained a great deal of valuable insider information about historical musical instruments and their makers that was not available from commercial publications or other sources.

A regular feature of Chrestologia was "From the Director's Desk" which contains extended editorial essays by ASW president and director David H. Green on a wide variety of topics relating to historical instruments and the performance practice of early music. Another regular feature, "Recordings in Review" contained in-depth comparative analyses of current recorded performances of music using historical instruments and performance techniques. These reviews were in fact often springboards for extended discussion of fundamental issues and trends in historically-informed performance practice.

Although Chrestologia is no longer being published, we do have on hand small quantities of most back issues from the past ten years. These are available at a price of $2.00 each plus shipping costs. If you would like to browse the contents of back issues of Chrestologia for the past ten years, click on Chrestologia Archives.
---
Why Is Your Website So Plain?
We offer a warm welcome to all of our cyberspatial visitors. A few words of warning might be in order, however. If you have been surfing the Internet looking for glitzy designer displays, fancy-schmancy computer-generated artwork, gee-whiz animation, and cutesy sound bites, you may be somewhat disappointed by our relatively modest little Web site. If you are looking for megabytes of pretty pictures, you'll find relatively few of them here, although candid snapshots of Goffy, Carlton, Amory, and their ASW colleagues have been included at the request of many of our customers who have met them in person. Glamour sites on the Internet can indeed be lots of fun -- in fact, we have been known to enjoy a bit of recreational browsing ourselves from time to time. However, such eye-popping displays are, as any experienced Netsurfer knows, both wasteful of time and bandwidth and incredibly slow to download over POTS (Plain Old Telephone Service) dial-up Internet connections, which is what many of our customers have at their disposal.

We firmly believe that the three most important ingredients of a genuinely useful and informative Web site, to paraphrase the old adage about the real estate business, are content, content, and content. Our site is designed solely to address the interests and needs of the serious early music performer. We have no desire to entertain you, waste your time, or insult your intelligence. We have sacrificed fancy displays in order to pack as much useful information about historical musical instruments as possible into our more than 200 Web pages. Where photographs of instruments are needed, they are linked to the headings and text in our catalogue pages; you may therefore click only on those photo links that are of immediate interest to you and not be burdened with downloading unwanted graphics.

The data on our pages are updated on an almost daily basis, so that our customers may have access to the most current information and prices. We are respectful of your time as well as our server's resources and have designed this site to load and execute as quickly and efficiently as possible. If you start suffering from informational overload, you can always hit the "What's Cool" button on your browser and do a bit of recreational surfing. When you want authoritative information about early music and historical instruments, we hope you will drop by our site again. We thank you for your visit and invite your comments and suggestions as to how we may better serve your interests and needs. It may sound like a cliché, but our customers really are our most important resource.
---
How Do I Place My Order?
You may place your order by whichever method you find most convenient: you may use the ASW Order Form on our web site, send it via E-mail to sales(at)aswltd.com, forward it by fax to (508) 833-3760, call it in via telephone to (508) 833-3979, or send it via snail mail to Antique Sound Workshop at 70 Lakewood Drive, Plymouth, MA, 02360-1921. However, all orders paid for by credit card must be placed using our on-line ASW Order Form, in order to meet VISA and MasterCard requirements. We also ask that all orders for sheet music, accessories, and/or plastic recorders, regardless of payment method, be placed on-line using our ASW Order Form, so that we may process your order as quickly and efficiently as possible.

Please enclose payment by check or money order in full with your order or else authorize us to bill your credit or debit card; we accept VISA, MasterCard, Discover, Diners Club, JCB, and American Express. We are not able to accept payment by Pay Pal. Massachusetts residents please add 6.25% state sales tax. Our minimum order is $25.00. We pay for packing, shipping via UPS Ground Service, and insurance costs on all domestic orders over $500. Domestic orders less than $500 and all international orders are charged for shipping at actual cost -- we do not pad shipping charges nor make rough guesstimates. We accept purchase orders from educational institutions, but will add packing, shipping, and insurance costs to the invoice if the order is not prepaid. We offer a special no-cost ASW Layaway Plan (25% down, balance within four months) to permit our customers to take advantage of special sales and budget the purchase of more expensive items.

We attempt to keep all of the prices listed on our web site current. However, all of our prices are subject to change without notice; and, given the unpredictable nature of the foreign exchange market, many prices are valid for only a few weeks or months. Please check for current prices before placing your order. Special sale prices advertised on our web site are valid only for specific periods of time. We regret that exceptions to the specific terms of each sale, in fairness to all of our customers, are not possible and ask for your understanding and cooperation in this regard. For our complete sales, return, and warranty policies, please read ASW Terms of Sale.

One unusual feature of our workshop is our special customer appreciation sales. From time to time, Antique Sound Workshop holds private invitational sales for the benefit of our regular customers. During these special sales events, each ASW customer receives a personal discount rate based on the frequency and amount of his or her total purchases to date. Thus, the more that you purchase from our workshop, the larger your discounts will be on future sales. This is our special way of saying "thank you" to our loyal customers for their patronage.

If you would like to place an order now, please go to ASW Order Form.
---
When and How Will My Order be Shipped?
We are usually able to ship an instrument, fully-serviced, within a few days to a week after receipt of your order. During extremely cold or hot weather, however, we will hold shipments of delicate wooden instruments if, in our opinion, there is significant risk of damage. We usually ship via United Parcel Service Ground Delivery for customers within the continental United States whenever possible and prepay all surface shipping and insurance costs on orders over $500.00. Expedited air delivery via UPS or the USPS are optionally available. Lower value orders are assessed shipping at cost.

If, at the end of one week's trial period, you are dissatisfied for any reason whatsoever, please first obtain a return authorization by telephone and then ship the instrument back to us via UPS as per our instructions; we cannot accept any domestic returns made via parcel post, due to the higher likelihood of loss or damage. Provided that the returned instrument has not been damaged by improper use, storage, packing, or shipping, we will gladly make a full refund (less any applicable restocking fee) or exchange it for another instrument of your choice. Please read our Terms of Sale before placing your order. Unauthorized returns or repairs will not be accepted. Please read Scooter's Shipping Suggestions before you ship any instrument to us.
---
Can I Get Personal Assistance and Attention?
We realize that a catalogue as extensive as ours can be a bit overwhelming to both newcomers and experienced early music performers alike. Please allow us to help you find the right instrument for your needs, taste, and budget. We genuinely enjoy talking to and getting to know each of our customers personally and will take whatever time is necessary to help you make an informed decision as to which instrument from our extensive inventory would be the best choice for your needs, taste, and budget.

We take telephone calls in person at (508) 833-3979 during our regular business hours, Monday through Friday from 10 A.M. to 6 P.M., Eastern Time. Customers may also call that number outside our business hours and leave a message, order, or credit card information with our secure answering service. We also have a dedicated fax line (508) 833-3760 which is available for messages and orders 24 hours a day, seven days a week. We can also be reached via E-mail at info(at)aswltd.com.

We have an extensive professional research library in-house and are always happy to help customers find answers to specific questions if we don't have the information at hand. We are always ready to advise our customers on any aspect of early music, historical instruments, and performance practice, and enjoy sharing our experience and expertise with our early music colleagues. We look forward to being of service to you in the near future.
---
Can I Visit Your Workshop?
We will try to accommodate professional musicians wishing to visit our home workshop and select specific instruments. We do, however, ask that you please call us at least several days in advance for an appointment at a specific time, so that we may prepare the instruments that you wish to try. Because of our demanding workshop schedule and extensive telephone consultation service, time for personal visits must necessarily be restricted to qualified customers with very specific and focused personal needs. We are sorry that we cannot accommodate browsers, curiosity-seekers, or school and tour groups, and ask for your consideration of our other customers in this regard.
---